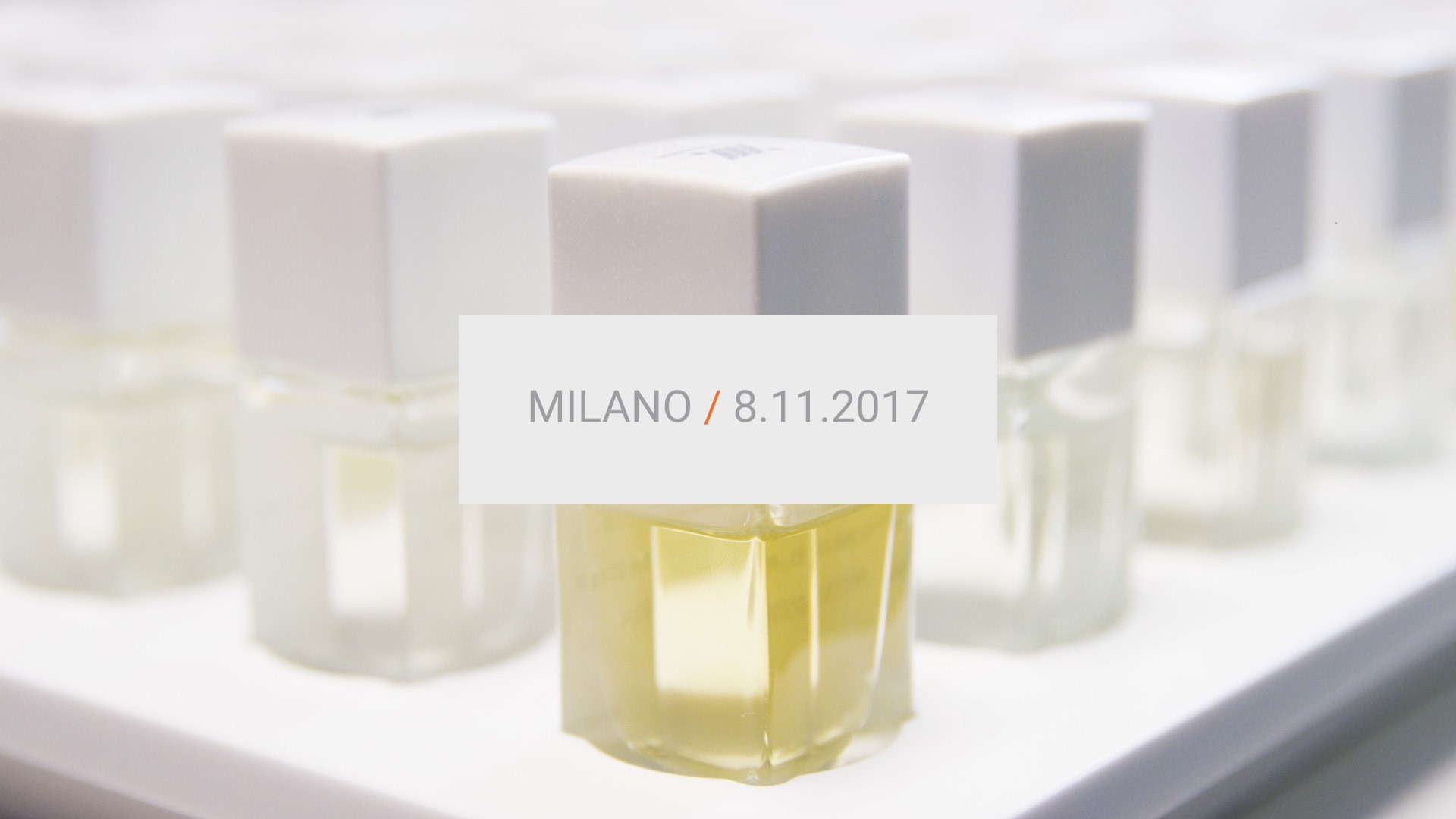 21st Century Perfumery Avant-Gardes
From idea to creation.
To be competitive, avant-garde is an imperative: the future of fragrances requires every player in the supply chain to continually reinvent professionally.
These are the first results from the event –organized by Moellhausen on November 8th, 2017 at its leading facility in Cambiago– with an array of voices addressing the relationship between fragrances and new forms of art, fashion, industry, and culture.


A look ahead took place on November 8th at Moellhausen Creative Lab#01, in Cambiago (MI Prov) – Italy: the multidisciplinary meeting "21ST Century Perfumery Avant-Gardes".
After the "thought", we naturally moved on to "action", over the course of an intensive day devoted to research and creative input by those who participated, together with several Company friends and personalities from the world of communication and culture.
After Andrea Ghezzi's (Head of Fragrance Division) welcoming, and a tour of Moellhausen facilities in Cambiago led by Gennaro Panella (Industrial Director), the ensuing roundtable moderated by Michelle Moellhausen (R&D Director) and by Valerio Tateo (MKTG Manager) encompassed an exchange of viewpoints on the topic of avant-gardes and innovation.
From classical art to digital culture, and from military strategies through to motion design, people with a variety of knowledge and experience came together with the objective of focusing on perfumery trends and the commitment of perfumers to provide brilliant, intelligent, and creative formulations.
Dominique Moellhausen (Perfumer – R&D Fragrances VD) ended the morning by presenting a wide selection of raw materials and Moellhausen BoldBases®.
In the afternoon, taking advantage of this "free rein" of olfactory expression, and after having taken part in a creative brainstorm, guests outlined their ideal fragrance with the help of the Company's perfumers.
The session that concluded this in-depth, intensive day of research involved the sharing among the participants of the newly compounded olfactory forms.
Excellent results were achieved very quickly, thanks to the versatility of Moellhausen raw materials, and the creativity and initiative of the participants.


Focus on the Avant-Garde
The final reflection, upon which all the participants agreed, was this: to be competitive, it is not only necessary to develop an advantage based on economy of knowledge (science and technology) or on workforce of great scale, but it also requires the genuine ability to continually reinvent one's professionalism to pursue, support, or in some cases even anticipate people wants.
If it is true that the future of fragrances will be characterized by an ever-faster transformation and renewal of products, the "need for the avant-gardes" is an imperative.
Processes of innovation are no longer unidirectional and "top-down decisions", but are open avenues influenced by social factors, as well as the natural development of taste.
A fluid and flexible re-invention is already taking place, where the perfume icons of all time are taking on new connotations. "Customization in the world of social media", where customers will creatively interact with companies and, in turn, the sector will come to understand and indulge the consumer's aspirations.
Diversification and the range of choices will grow, as will the consumer's ability to choose. Consequently, the commitment of perfumers providing artful, intelligent, and creative fragrances will also grow.
At the same time, there is increasing attention to "artistic" niche perfumery, which sees itself as being less affected by the dynamics of mass production. Actually —as it is well-known by all the experts in the field— small scale fragrance makers are often more greatly conditioned by industry because of the raw materials supply chain.
For this reason, Moellhausen, which takes an active part in this ongoing change process, is committed to establishing the best conditions so that each perfumer's talent is expressed. It does so by providing a comprehensive range of raw materials —including in-house developed specialties— but also by proposing meetings, events, and workshops to encourage and enhance dialogue among all the market players, both new and old.



Avant-Gardes
New Avant-Gardes horizons: with Moellhausen on November 8th, 2017


Alessandra Morelli Reulet
Vice President of Perfume Holding, Alessandra has gained significant experience both in Italy and internationally and is distinguished by her profound knowledge of luxury fragrances and chemical processes.
Carlo De Agostini
Director and Designer, Carlo is involved in visual communication for major brands and TV channels. He has won numerous awards and his works are referenced in respected international publications.
Davide Marasco
Expert in Communication and Digital Marketing, Davide is the founder of EffettoDomino, a marketing agency specializing in supporting customers through increasing revenues via digital channels.
Giuseppe Arnone
Trailblazing entrepreneur in the field of professional cleansers, Giuseppe has always played an avant-garde role in the world of perfumery.
Josef Ruffoni
Photographer, Director of on-set Photography, he collaborates with major advertising agencies and international production companies. He has participated in the production of numerous TV commercials and short films.
Matteo Cremonesi
Professor of Digital Cultures at Santa Giulia Academy of Fine Arts (Brescia) and of Cybernetics and Information Theory at Brera Academy of Fine Arts (Milan), Matteo is a researcher specializing in art and new media with special focus on their social and political impact.
Paolo Roselli
Remarkable analytical spirit and artistic sensitivity, Paolo is the Founder of Paul Roses Distribution, a company specializing in the distribution of artistic and exclusive niche perfumery brands.
Tiziano Tiziani
Journalist, expert in communication strategies to support public and private organizations. Tiziano is an eclectic personality with exceptional mastery of literature, sociology, history and philosophy along with a law academic background.
GENERAL DISCLAIMER
Although the information contained in this document is presented in good faith and believed to be correct, Moellhausen makes no representations or warranties as to the completeness or accuracy of the information. This document is provided on an "as is" basis. No representations or warranties, either express or implied, of fitness for a particular purpose are made herein with respect to information or products to which information refers. Moellhausen shall not be liable for any irresponsible, improper or illegal use, direct or indirect, of the information or the products represented herein and it shall not be liable for any damage arising from any use in connection therewith.
©Copyright 2018, by Moellhausen S.p.A – All Rights Reserved. Any review, retransmission, spreading or other unauthorized use of, or taking of any action in reliance upon, this information is prohibited.