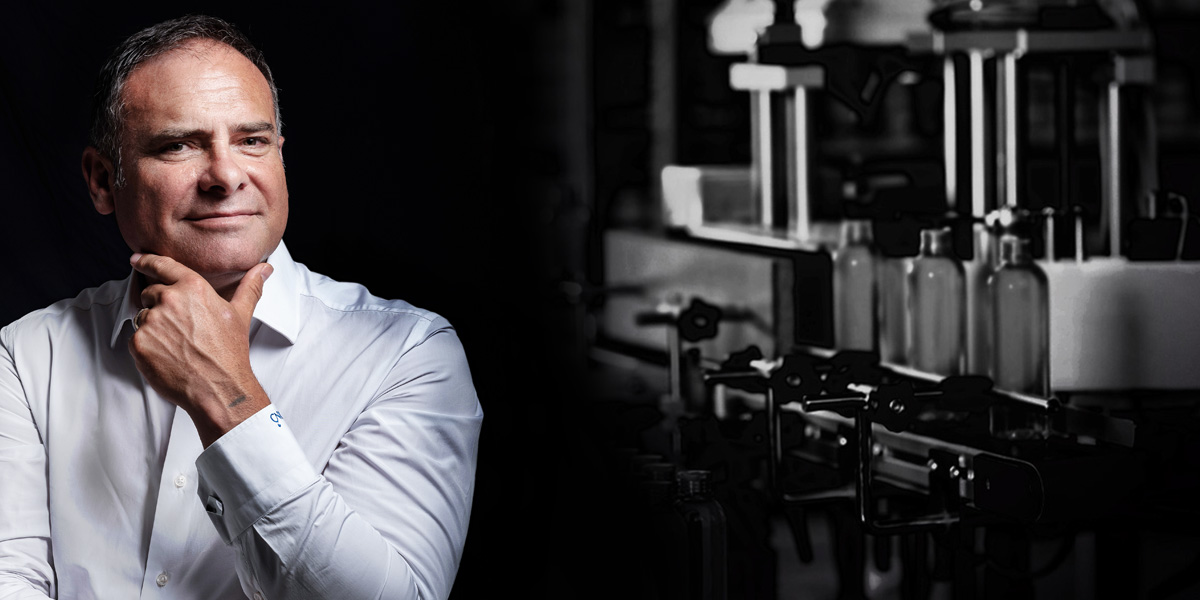 The secret to producing more than effective cleaning products
Fragrances at the core of successful entrepreneurial stories.

We interviewed Giuseppe Arnone, who told us about his entrepreneurial journey in the cleaning and hygiene products industry.
An authentic Sicilian from Modica (Ragusa), Giuseppe Arnone is CEO of ChimiClean Group and General Manager of Arnò Profumi.
His professional expertise in the chemical sector, together with his innate love for fragrances, are the key elements that led to success the company he founded in 1985.
Transferring the charm of alcoholic perfumery, his great passion, to the world of professional cleaning and sanitizing products contributed to making ChimiClean a reality capable of satisfying, over time, the different needs of end users. With a wide range of products, concentrated detergents and air fresheners designed for both professional and household use, the company operates paying thorough attention to territory and environment. Truthful values arising from Giuseppe Arnone's love for his land and still inspiring the construction of the new ChimiClean plant which will be inaugurated in 2021.

Can you tell us about the first steps of your company, and how did the idea of entering the world of professional cleaning products come about?
Entering the world of cleaning and hygiene products was a sort of challenge to my father, an employee of Eni Group, where he wished that I too would make my way, one step at a time. But I was proud, impatient and convinced that, in short times, I could make a difference, if only I had the chance. That's how I founded my own company, despite my father telling me with a hint of skepticism: "Companies are not made in Sicily, but in Milan." All of this made sense forty years ago, when it was really a challenge to think of becoming an entrepreneur starting off from the "deep South." Today, I can proudly say that a successful entrepreneurial activity can also be developed from our island.
One of the characteristics that distinguish many of your cleaning products, compared to those on the market, is the fragrance. How relevant is this to the success of your products?
The world of chemistry, as well as the one of fragrances, always fascinated me because I have invariably had a particular sensitivity towards smells. Each of our products arouses an effectual visual, tactile and above all olfactory emotion. And the smells represent the most immediate, powerful and "uncontrollable" perceptive stimulus. The fragrance ­ the good smell ­ weighs up to 70% on the purchase motivation, and I had sensed such value since the formulation of the first products. Behind the formulations of ChimiClean, there have ever been both basic chemicals know-how ­ typical of the cleaning products industry ­ but even a great deal of experimentation on fragrances and other product components which, in addition to performing their function in an excellent manner, must not have their own smell interfering with the overall impact.
The laboratory trials conducted to obtain the best olfactory product features, in some cases indicated me the successful formula, thus pursuing new routes that at first might have appeared wrong; an outcome I obtained partly by gathering market inputs, and partly by relying on intuition.

Even today, is 70% of the product value represented by the fragrance?
The scent remains decisive for the purchase. This is why the definition and evaluation of the fragrance by the developer is very important. Such activity is crucial for the product success and, together with experience and personal skill, the involvement of customers in the development and evaluation process of new formulations is key.
We regularly avail ourselves of the contribution of a sample of about thirty experienced consumers and good connoisseurs of the existing items on the market, distributed in strategic geographical areas. Those consumers are involved both in the choice of fragrances and in the evaluation of pilot products. We take their opinion into prime consideration in order to decide the characteristics of the products to be launched and what is the most suitable time of year to do it.
Once the fragrance has been chosen, we take care to guarantee our customer the effectiveness of the product, its safety for use and its fair price.
What is your relationship with fragrance suppliers and with Moellhausen in particular?
Starting from the fact that the scent is one of the fundamental aspects of our formulations, I have consistently been very demanding with "fragrance houses" and suppliers of essential oils and aroma chemicals.
Notably Moellhausen ­ of which I feel somehow part due to the long years of intense and fruitful collaboration ­ was the company that supported me since the launch of my business and always believed very much in what I was engaging in.
A virtuous example of how determining it is to have valuable partners and collaborators for creating and sustaining a successful company.
Starting from scratch, what were your early tools and equipment?
I remember that the first mixer I bought, a second-hand one from a company which was going out of business, it cost five hundred thousand Italian liras. Then, I bought another one, connected to a filler. The bottles I needed came from companies in Padua and Bologna, but the costs, including transport, were exorbitant and knocked me out. Without losing heart, I was able to buy a small blow molding machine that produced bottles of different shapes, and which I also learned to operate personally.

What is the most successful ChimiClean product and what are the characteristics that make it appreciated by the market? What are the key steps?
The successful products are several, but especially the DEO DUE has been a great satisfaction for us and it continues to be so, thanks to the olfactory research we have refined over the years that allowed us to find the right balance to meet customer expectations.
It is a biphasic spray air freshener composed of a perfuming upper phase, and a neutralizing fixative lower phase to eliminate bad odors.
Oddly enough, it originates from a failed laboratory experiment. My initial intention, in fact, was to have a single-phase product with a double output: removal of bad odors and a "wow" perfuming effect. For such reason, the formulation had to contain a high quantity of fragrance, much higher than the one present in the items circulating on the market. To achieve the objective, we tested a whole series of solubilizers and solvents, necessary to increase the fragrance concentration and to manage the viscosity of a product which had to be sprayed. However, the amount of formulation supports introduced in the formulas under test always had, after all, contraindications for health and environment. An avoidable drawback, instead, by adopting the new biphasic consistency! Hence, we decided that the product would be biphasic and we concentrated on a new challenge: to create the conditions so that the two constituent liquids could be made into a temporarily homogeneous and sprayable mass by simply and briefly shaking the bottle, in less than a second and without effort.
Nonetheless, it was actually the very biphasic consistency of the product to become an extraordinary marketing leverage which promoted its success, and DEO DUE is still our flagship product.
Are there any olfactory notes that are more appreciated in some geographical areas than in others? And how much helpful to you is the acknowledged strength of your know-how in this sense?
There are, indeed, considerable differences between the Northern and Southern areas of Europe, for instance. In the latter one, it emerges an inclination towards slightly warm and oriental, enveloping notes, while in the Northern area the notes which we define as cold, such as citrus and aloe, are more popular. Consequently, we must as well be very careful about where we market the product, and respect and enhance the qualities of each territory. All of this in contrast to a sometimes massified hyper-efficiency which, in the face of economic savings, neglects peculiarities and details.

How does your research and development laboratory work?
A team of four people is currently working in our laboratory. One person ­ with extensive experience in the development of cleaning, hygiene and cosmetic products ­ has been working with us for twenty years, plus a young chemist of excellent resourcefulness and imagination. In addition, there are my two sons, who from an early age got used to playing with fragrances and raw materials, and today are bringing about some good results with scents of their own creation. I strongly believe in young people; involving them means creating and spreading culture on two different levels: on the one hand, teaching them the values and olfactory features that they can progressively appreciate and, on the other hand, taking into account their thinking and sensitivity. In the new plant we are building, the laboratory will expand and we already planned an area dedicated to the olfactory research and development for the different markets we are going to deal with.
ChimiClean is growing and is about to set up a new plant. What will it have more and how will it differ from the previous one, both in terms of industrial capacity and technological innovation?
It will certainly have a larger production capacity, smoother logistics, and rigorous attention to renewable energy sources, therefore greater environmental awareness.
The new plant is conceived according to logics which will prompt us to significantly reduce our internal costs. Leaner logistics with a warehouse that will allow us to speed up deliveries. Technology and know-how to achieve ever higher efficiency of the development and production processes.
Furthermore, to face an extremely competitive market, even if in some ways "niche," we also focus on flexibility, motivation and attention to the employee; to give an example, we have already envisaged a relaxation area for our teams. All of this without overlooking to achieve a balance between competition and team play, which are the founding elements of a young and growing company like ours.

From the point of view of the development and production of new references, what is the most critical step? And which is the one that takes more time or is more difficult to plan for?
When you go into production, there are cycles that have very long timings and long timings mean raised costs. Every day we focus on how to downsize processing, pumping, reaction, mixing and packaging times. And we are also constantly vigilant on identifying new typologies of plants and specific process variants for the single product.
A critical step, for instance, is the neutralization of dodecylbenzenesolophonic acid. Presently, such process is done in discontinuous mode inside a blender, but we are designing our own piece of equipment to operate in continuous mode via the injection of sodium or potassium hydroxide in several points of a pipe ­ a reactor ­ where to make the liquid acid transit. This is to avoid long discontinuous processes and waiting intervals between one work sequence and another. We are talking about the reduction of even two or three hours in the neutralization stage alone.
But also the choice of pumps is a topic worth of attention. It is not enough to take into account just the flow rate/head characteristics: it is very different, as an example, to use a centrifugal pump or a volumetric screw pump to move blends which, when exaggeratedly stressed, could separate in several phases.
There are anyhow many other optimization interventions we are evaluating, and this is to decrease production timings and, in consequence, costs.
And it is precisely by going in such direction that we have recently included in our staff also a management control supervisor, and a manager who will take care of regulatory.

Are there any key partners you interact with in the design and production phases of your products?
Together with the fragrances, essential oils and aroma chemicals suppliers ­ such as Moellhausen ­ our industry is certainly linked to the one of basic chemicals. We work with companies ­ basic chemicals giants ­ which own large technological structures and specific know-how, and that support us in the supply of indispensable raw materials for our formulations. It is certainly a competitive advantage for us to have preferential and direct relations with such industry, which coincidently has an important production district in our region.
GENERAL DISCLAIMER
Although the information contained in this document is presented in good faith and believed to be correct, Moellhausen makes no representations or warranties as to the completeness or accuracy of the information. This document is provided on an "as is" basis. No representations or warranties, either express or implied, of fitness for a particular purpose are made herein with respect to information or products to which information refers. Moellhausen shall not be liable for any irresponsible, improper or illegal use, direct or indirect, of the information or the products represented herein and it shall not be liable for any damage arising from any use in connection therewith.
©Copyright 2018, by Moellhausen S.p.A – All Rights Reserved. Any review, retransmission, spreading or other unauthorized use of, or taking of any action in reliance upon, this information is prohibited.