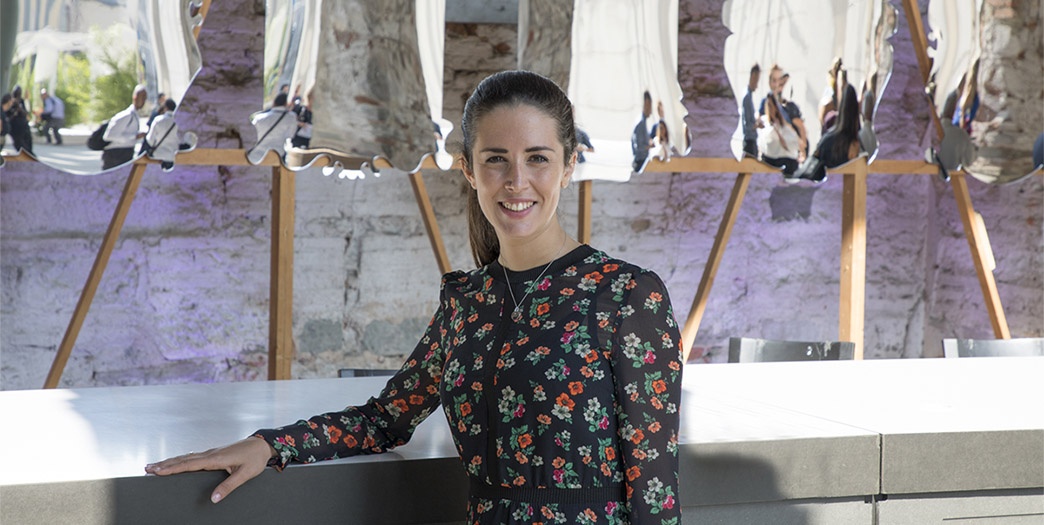 Impressions of September at Stazione Leopolda, Pitti Fragranze N.16 –September 14-16, 2018.
Admittedly, I left for Florence with the main intent to understand which were the most representative "olfactory forms" of the hour in the artistic and experimental perfumery circuit. I rather returned from Pitti Fragranze - in the evocative setting of Stazione Leopolda - loaded with new energy and with the confirmation of living in an extraordinary historical moment, where creativity is actually being called to produce value.
While getting off the train, once back in Milan, I am totally aware of it: along with the busy and packed hours that I spent going around the stands at the fair-event, to smell, to exchange opinions, ideas (and mouillettes) with the customers, the sector professionals and the perfumer friends, what happened to me was a sort of "railway epiphany".


A journey of creativity that runs on rails
Constantly in motion and running through life with graceful refinement, the train inspires unexpected thoughts; the metaphor of travel, encounter, knowledge and freedom.
The Florentine railway station of Santa Maria Novella and the one of Leopolda, disused for over a century and a half, played a defining role in my imagination.
My curiosity is never satisfied with first impressions and I went and checked out the history of these places, examples of creativity applied to the functionality of contemporary living.
Young spirits who are boldly tracing new paths and imposing a style destined to leave an indelible mark over time.
Santa Maria Novella station - opened in 1935 - is recognized as one of the greatest Italian rationalist architecture masterpieces. Instead, Stazione Leopolda – though previously designed - was inaugurated a few months later than the one of Florence Santa Maria Novella.
With time, the latter station, more centrally located, witnessed a continuous increase of passenger flow and of number of regional and national lines. On the other hand, Stazione Leopolda, definitively closed in 1860, saw its intended use changing many times. Today, it is one of the city most versatile spaces, from time to time utilized for different exhibitions and events such as the one on our world of fragrances.
The history of these stations is a game of mirrors: it is not always the fastest who arrives first, however it is the forward-looking vision which decrees the success of an idea, of a fragrance, of a new way of dressing and moving in the space.


Where inspiration creates value and innovation
To the debate theme which inspired Pitti Fragranze N.16 – "Where does a fragrance start and where does it end?", I would concretely respond that it firstly begins where the conditions exist so that the talent of each perfumer could express itself.
And this happens when the largest quantity of known raw materials is available to all, including bases and specialties which, for instance, at Moellhausen are being developed with great passion. I then discovered that fragrances never end, but they are like poetry: "it does not belong to those who write it, but those who need it."
In order to innovate, we need to acquire knowledge: moving through the stands of Pitti Fragranze 2018 enabled me to confirm some fundamental guidelines.
First of all, the story, the vision or concept which inspire the fragrance must be consistently and impressively translated at olfactory level. With originality.
Nonetheless that is not enough. It is also crucial that the message and the olfactory note of the fragrance will be clearly conveyed, as an integral part of the emotional baggage of the whole team supporting and promoting the idea outwardly.
I truly believe that the segment of "artistic and experimental perfumery" – a segment with which the brands of what once used to be called "niche perfumery", best identify themselves - does not have to be bent to fashion trends, but it should rather feed a virtuous inverse path, that is the artistic perfumery has to be the one which fosters new modes of interpreting and living the fragrances and launches new ways of thinking about the fashion fragrance.
To do so it is critical to nurture a constant relationship of creative understanding with the perfumer and to generate opportunities to bring out new talents. Without ever forgetting that the quality of the fragrances and their expressive capacity must be evaluated with sophisticated, wide-ranging, objective and reliable statistical verification and forecasting processes.
This path is my everyday life. Working in compliance with solid and shared rules allows us to create fragrances and to participate in the development of products which are not only appealing, but that we want to use and propose because they are our contribution to a fairer society, to a more natural and cleaner planet.
To reinforce the brand on the field, we work with photographers and anyone who knows how to enhance rare and precious raw materials, craftsmanship tradition in processing, extremely refined compositions requiring superlative packaging.


Leopolda: smoky and incense notes for an endless journey
What I saw at Pitti Fragranze is a fluid and flexible renewal which reveals new connotations for the fragrance icons of all time.
"Customizations of a social world" where the client creatively interacts with the industry that, for its part, seizes and meets the consumer aspirations. Diversification and choice options are increasing, as is the selection ability of the consumers themselves. Consequently, perfumers commitment to provide ingenious, bright and creative formulations is also growing.
For this reason, if it is true that the fragrance future will be characterized by faster and faster transformation and innovation of products, it is necessary to be present where the change is more strongly perceived.
And I am pleased that advocating the sense of smell culture and the art of fragrance is part of Moellhausen mission, which is to study and offer "scent and flavor features that sustain the values and lifestyles of every man and every woman in every continent."
I started from trains and stations and here I am back again.
Stations and trains are symbols of the stream of life, of our departure and of our arrival.
I take the train to Milan from Santa Maria Novella station and I ponder that the head grand gallery is like an urban road, open at the ends; to all intents and purposes a space belonging to the city itself, and not "merely" a place functional to the single railway station.
An evident link, an essential and recognizable part of the identity just like a fragrance, a substance which has no other texture and that only our skin can unveil.
On the train, the impressions and sensations experienced at the fair take shape along with the desire to return to the laboratory and get back to work with the perfumers and all my colleagues at Moellhausen.
I know too what I will like to create in the near future: "Smoky" fragrances to recall the old steam trains and an "Incense Collection" to dream of luxuriously travelling by train to the East. By the Orient Express, of course. Looking out the window of the bar carriage, enjoying the aroma of a cocktail which tells me about its origin.
Because by train, as in the world of fragrances, the scope of a journey does not just lie in realising where we are headed, but how we get there.
And it has as well to do with living that motion together with others, the unknown travelling companions, in a unique and magical relationship at once.
Michelle Moellhausen
Know more about Michelle Moellhausen's profile
GENERAL DISCLAIMER
Although the information contained in this document is presented in good faith and believed to be correct, Moellhausen makes no representations or warranties as to the completeness or accuracy of the information. This document is provided on an "as is" basis. No representations or warranties, either express or implied, of fitness for a particular purpose are made herein with respect to information or products to which information refers. Moellhausen shall not be liable for any irresponsible, improper or illegal use, direct or indirect, of the information or the products represented herein and it shall not be liable for any damage arising from any use in connection therewith.
©Copyright 2018, by Moellhausen S.p.A – All Rights Reserved. Any review, retransmission, spreading or other unauthorized use of, or taking of any action in reliance upon, this information is prohibited.