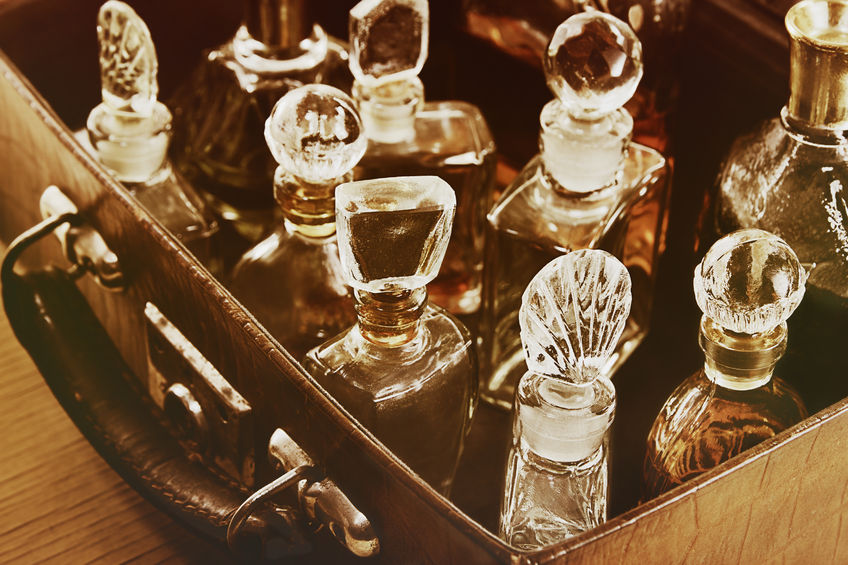 Mass vs niche perfume: how is the market evolving?
At the beginning of the last Century, the perfume market was revolutionized by a group of designers like Chanel, Lanvin, Dior, Carven, who started launching fragrances to complement their apparel and accessories collections. This trend continued for decades and is still successful today with Prada, Calvin Klein, Dolce & Gabbana, Paco Rabanne, Ralph Lauren, Gucci, Elie Saab and other fashion, brands, which offer perfumes as scented accessories to complement their fashion designs.
Their perfumes are aimed at satisfying as much public as possible with generally affordable products (between sixty and ninety euros on average), with well promoted tv spots and advertising campaigns starring worldwide-beloved movie and sport testimonials.
These products -sold by a large number of retail outlets situated in every city worldwide- make the great majority of today's perfume market.


A new trend
A few decades ago the market changed again, with the birth of a brand new category of players: niche perfumers.
Niche (or artistic) brands are offered only at carefully selected perfume specialists' or high-end fragrance boutiques at a much higher cost (100 to 300 euros on average). The focus is on exclusivity and originality; niche fragrances are limited in quantity and come out of artisanal passion, developing a personal, authentic, engaging storytelling. The main voice in the perfumer's budget is, rather than promotion, the purchase of those precious natural raw materials that are very difficult to find in mass products.
By captivating the most discerning consumers who looked for exclusive, artisanal and unique perfumes, niche perfumery became a trend in the early years of the new Millennium, witnessing a steady increase both in the number of new brands launched and in the revenue generated, with an average double-digit growth since then.
The niche trend might envisage profitability losses to "mass market companies".


The counterattack
The mainstream market, taken back by this new trend, has then started reacting, looking at niche as the new, profitable segment to exploit.
This form of reaction is taking place in 2 distinct directions:
mainstream brands have also started launching their exclusive and artistic lines;
multinational companies well positioned in mass-market perfumery are differentiating their income sources with the acquisition of outstanding niche brands.
In the past few years, many luxury brands like Chanel, Armani, Prada, Dior, Hermès and others have launched new lines of perfumes with different focus and distribution. These new lines feature original, appealing, moving compositions of compelling beauty, enriched with the rarest and most expensive natural raw materials. For example, the perfume line "Les Exclusifs" -only available at Chanel's boutiques- is appreciated for the poetic approach, the mastery in raw materials management, and the vibrancy of the composition. The same is for "Armani Privé", whose original, artsy approach has been praised worldwide.
Their cost and distribution are different from mainstream lines of the same brands: perfumes are sold somewhere around 160-300 euros (and even more) and only in luxury brand boutiques.
The introduction of these new lines has proven extremely successful, captivating both the niche-addicted, who applauded the creation of new, sensational scents they were craving for, and for consumers already loyal to these brands, who enjoyed the idea of wearing a more exclusive scent by their beloved designer.
Moreover, with the creation of exclusive and artistic lines, these brands have permeated with an over-luxury and artsy aura, from which their other items have also benefited.
The second direction was carried on by investment funds and multinationals owning perfume licenses of designer brands. In order to differentiate their revenue sources and take advantage of this new market segment, they started acquiring many niche brands of great renown, like Frederic Malle, L'Artisan Parfumeur, Diptyque, etc.
But this strategy still has to prove a successful outcome: introducing these brands into mass-scale logics is feared to distort the consumer perception.
RELATED CONTENTS:
GENERAL DISCLAIMER
Although the information contained in this document is presented in good faith and believed to be correct, Moellhausen makes no representations or warranties as to the completeness or accuracy of the information. This document is provided on an "as is" basis. No representations or warranties, either express or implied, of fitness for a particular purpose are made herein with respect to information or products to which information refers. Moellhausen shall not be liable for any irresponsible, improper or illegal use, direct or indirect, of the information or the products represented herein and it shall not be liable for any damage arising from any use in connection therewith.
©Copyright 2018, by Moellhausen S.p.A – All Rights Reserved. Any review, retransmission, spreading or other unauthorized use of, or taking of any action in reliance upon, this information is prohibited.