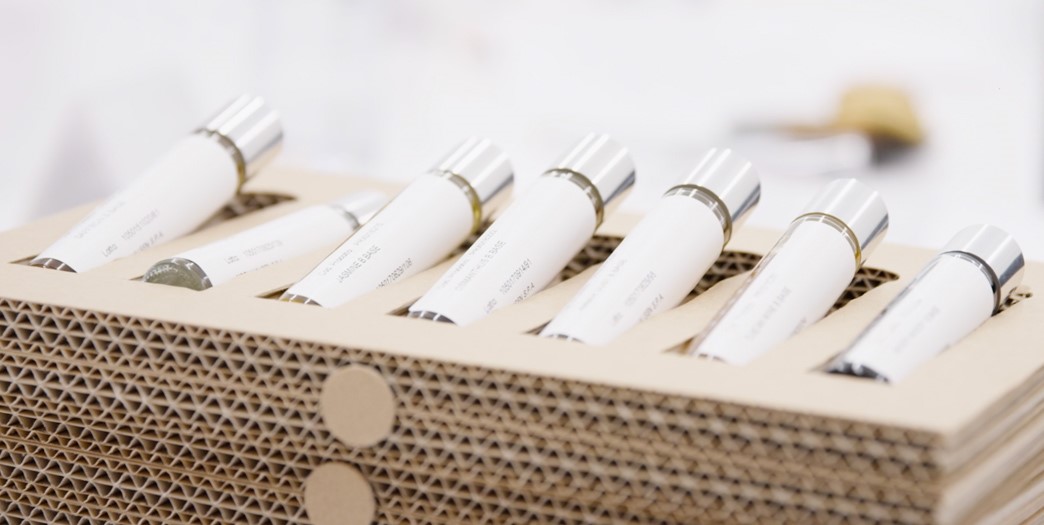 The new BoldBases™ #5: Globally engaged
If creativity is the ability to bring together elements around us in useful combinations and recognized as "beautiful", Moellhausen BoldBases™ have it all: a creative expression for creative perfume makers.
Glam and cutting-edge, the new set of BoldBases™ #5 is now ready and raises the bar. Nature and sustainability first.
Original or inspired by nature, with a "narrow olfactory profile" and not more than 8 basic elements, BoldBases™ #5 have been created for preserving the highest biodiversity and for species safeguard, while offering accords that nature can't make available.
BoldBases™ #5 also mean caregiving, attention, action, enjoy and pleasure:
Nectarine B.Base
Coffee Bean B.Base
Gardenia B.Base
Lily Of The Valley B.Base
Fir Balsam B.Base
Royal Oud B.Base
Vegan Beeswax B.Base
Nectarine B.BASE is juicy, young, fun. It's like biting a rich and tasty peach during summer. Enriched by the notes of a flowery apricot, it expresses the most spontaneous happiness, enjoying life and freedom, taking chances of youth. Nectarine B.BASE adds a playful side on top of sparkling compositions.
Creamy and sharp at the same time, espresso coffee is nowadays compared to a brief moment of powerful and intimate pleasure. Coffee Bean B.BASE is the glamorous and roasting touch of mellow fragrances. It's the gourmand sensation of a sweet breakfast making in the morning.
Delicate, attractive and fascinating. Gardenia is a very feminine and elegant flower, whose scent is jealously kept by Nature, like a secret that cannot be said, but just whispered from one to each other. Gardenia B.BASE expresses the whole richness of the flower, the sensuality of its plump petals and reproduces its inebriating, unique and powerful scent.
A flower of the night, rare and exclusive: Lily Of The Valley B.BASE is a full expression of a lovely and passionate caress. Green, floral and slightly powdery, it represents the mystery of the obscurity and the innocence of tiny musky muguet.
Everlasting and solid, fir tree never loses the strength to shine, green and vividly. Fir Balsam B.BASE is sound and charmingly intense. With its toasted-sugary shades, it immediately recalls happy moments with beloved ones.
Standing, noble, and extremely passionate. Royal Oud B.BASE is the majestic touch within daring Perfumers' palette. Woody and slightly spicy, the B.BASE adds a powerful veil of darkness into oriental compositions.
The production of beeswax is synonym of labor, working hard and patience. It takes time, and it implies the capability of waiting. It's the love for your work, for your own commitment. Noble values of noble "workers", the bees indeed, to be protected and defended. Vegan Beeswax B.BASE becomes the symbol of this safeguard, with its sweet honeyed notes.
More about previous released BoldBases™ #1, #2, #3, #4 >>
Contact Moellhausen to get customized selection of BoldBases™ for your perfume palette.
GENERAL DISCLAIMER
Although the information contained in this document is presented in good faith and believed to be correct, Moellhausen makes no representations or warranties as to the completeness or accuracy of the information. This document is provided on an "as is" basis. No representations or warranties, either express or implied, of fitness for a particular purpose are made herein with respect to information or products to which information refers. Moellhausen shall not be liable for any irresponsible, improper or illegal use, direct or indirect, of the information or the products represented herein and it shall not be liable for any damage arising from any use in connection therewith.
©Copyright 2019, by Moellhausen S.p.A – All Rights Reserved. Any review, retransmission, spreading or other unauthorized use of, or taking of any action in reliance upon, this information is prohibited.