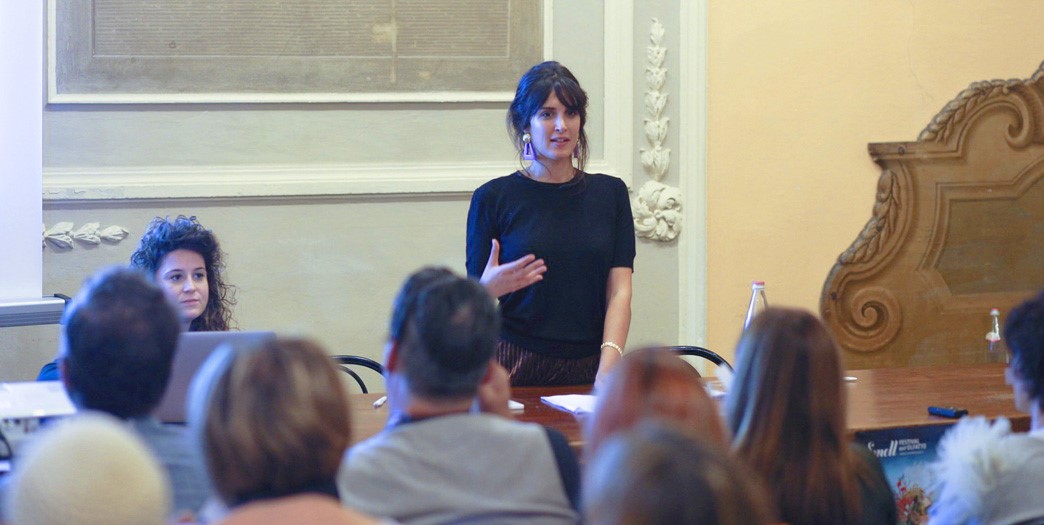 Spaces, environments, scenarios: Birth of a fragrance
In the splendid setting of Smell - Festival dell'Olfatto, organized in Bologna on last May 26th, a professional demonstration of "applied atmospherology" took place within the framework of a perfumery Masterclass. The goal set with my class was to deepen how it is viable to modulate the environments emotional perception through a careful usage of ancient and modern materials, and the knowledge of the language of smells.
Atmospheres and smells
The word "atmosphere" alludes to the "climate" present in an ambiance, and to certain ineffable qualities that we manage to perceive thanks to the most evocative and subliminal of our senses: the sense of smell.
Sharing such an experience illustrates the olfactory and artistic path that a perfumer puts in place to create an original fragrance. This is not, of course, the only way to achieve the outcome, but it is a starting point for highlighting the cultural and emotional, articulated and wonderful process that those who do this profession live.
Smells recalling memories and places
How many times have a smell or a sound brought us to mind memories and images of the past? Marcel Proust said that "the smell and the flavor of things remain deposited for a long time, ready to reemerge" at any moment.
Even the scent of a space, of a site or a particular environment, is an essential element of our perception of reality: It influences our state of mind and can unexpectedly resurface over time.
According to science, the sense of smell has considerable importance for our memories and for their reenactment. Perfumes and smells would be among the most lasting memories, and even able to "coordinate" other recollections.
How the perfumer creates an atmosphere
The task of a perfumer can be to investigate the scent of a place to then recreate it, but it can also be to invent ex nihilo a new fragrance which will define a space in an olfactory manner. Originated from the atmosphere that we breathe in such specific place, the fragrance will have the task of narrating its story and summarizing its essence.
An artistic operation which is above all a form of dialogue, because the artwork par excellence is the one that, in itself, shapes new standards, new communication rules. Defining the smell of a climate, and artistically recreate a fragrance which lyrically enhances its perception.
So drawing on the original to be truly creative, it means immersing yourself and searching the past knowing that, if the work is successful, our results will have an echo in the future.
The atmosphere of Teatro La Scala
We wanted to recreate the olfactory atmosphere of a place, of an experience, of a memory, and formulate a fragrance consistent with that particular climate. A fragrance to wear in order to remember a place, to bring back to full light unforgettable sounds, colors and emotions.
We have chosen the atmosphere of a theatre, the Italian theatre which is certainly the best known in the world - Teatro La Scala in Milan - for several motives:
because theatre is the ultimate site of creativity, where the pleasure of acting and experimenting with different forms of communication is rediscovered, thus favoring an integrated growth of all personality levels;

because it is considered the temple of music, and among music and fragrances there is a special feeling, and the senses of smell and hearing use the same language: for this reason, at each rhythm corresponds a fragrance (please see paragraph "To each rhythm its own fragrance");

because the history of La Scala is like the one of a "great organism" feeding itself with the cooperation of many individuals.
We are talking about a human institution here; not so much the "genes" (DNA) of the various Piermarini, Verdi or Rossini are kept alive over the centuries, but rather their "memes" (so defined by the evolutionist Richard Dawkins), that is to say unities of thought, such as ideas or musical notes.
Furthermore, a great organism adapts itself to the environment; because innovation, technology, tradition and internationality are nowadays the founding values ​​of Teatro La Scala.
If wanting to wear the scent of a space, of an environment, of an emblematic scenario, we must recreate an olfactory atmosphere and formulate a fragrance consistent with such specific climate.
The purpose then becomes to conceive and create the fragrance to wear, so to evoke and remember that particular place and bring back sounds, colors and unforgettable emotions to the full olfactory perception.
Olfactory references of Teatro La Scala, the inspiring muse
To succeed in this intent, it is necessary to emphasize what can be the "olfactory references" of Teatro La Scala, and identify its keywords.
History - Fir Balsam B.BASE
Born from the ashes of Teatro Regio of Villa Reale, and from the ruins of the unsafe church of Santa Maria della Scala, dating back to the 14th century. A historic theatre arises from an ancient history.
>> More about the latest Moellhausen B.BASES
Tradition - Iris Absolute
On August 3th 1778, the inauguration: on stage L'Europa riconosciuta, the opera by Antonio Salieri, since then synonymous with the very tradition of La Scala.
Revolution - Red Mandarin Essential Oil
The town is the scene of revolutionary uprisings against Austrian domination and the theatre lights up: electricity is introduced in 1883. A revolution also occurs in 1968: The student protest throwing eggs on the spectators furs at the opening night.
Immortality - Desert Rosewood Essential Oil
A great organism is the fruit of many individuals collaboration. However, while individuals die, the great organism represented by La Scala endures over time; it passes on the magic of the sounds which animated it, of the dance steps that alternated on stage, of the colors and choreographies. They are immortal in memory, reproducible by reading scores and annotations by the Virtuosi, and yet unrepeatable.
Rebirth - Ambermox (Moellhausen No. 101285, CAS 6790˗58˗5])
The war is over, the wounds inflicted on the theatre are restored. On May 11th 1946, an inaugural opera - La gazza ladra - was the symbolic performance of rebirth after the Fascist period.
Continuous renewal - Gardenia B.BASE
The new aspect of La Scala: from 2001 to 2004, it is completely restored. The wood of the floor infuses new sound, new scents. Golden inlays and paintings shine. A magic box where to get lost, again and again.
Connection - Blue Cypress Essential Oil
The theatre in the heart of town, the town in the heart of the theatre. Past and present are connected. Behind the body by Piermarini, the futuristic theatrical machine by Mario Botta.
Youth - Nectarine B.BASE
La Scala has always been a site of training for young artistic talents. The La Scala Academy sets the standard. Its stage is coveted by the new art generations.
Enveloping warmth - Vanilla Absolute
Precious, beautiful, sumptuous: the Materials making up the theatre are as attractive as the performances that are being held there - antique woods, and velvets which radiate warmth, a sense of comfortable belonging, of guaranteed allure.
The perfumes at La Scala: Science and love
A challenge or an irresistible seduction?
We aimed at recreating the olfactory atmosphere of Teatro La Scala, and yet we did something more. We approached the protagonists of that place; for succeeding in giving a face to its climate, to whom embodies it. And therefore to render the atmosphere of the theatre through wearable fragrances: The perfumes at La Scala.
Well, then two proposals are born which take on the charm expressed by the keywords that "described" La Scala, which interpret its history, but also its youthful freshness and its vivacity.
With a face and a personality.
Two faces for an olfactory music
Among the many legendary ones, we have chosen two internationally lauded, contemporary interpreters of classic music, who have often stepped onto the stage of La Scala: the violinist David Garrett and the pianist Yuja Wang.
We elected them to give faces and personalities to new fragrances enriched with history, and even with young touch and flair, for two creations that we playfully named: "David Garrett at La Scala" and "Yuja Wang at La Scala".
They are modern and glamorous fragrances of classic, but original flavor; acute as the warbling of a soprano, and at once deep and vibrant as the voice of a bass.
Unpredictable as a sopracuto. Exemplary as a "successful premiere". Astonishing as a whirling fouetté en pointe.
David Christian Bongartz, known as David Garrett, is a crossover, classic and pop violinist, born in Germany in 1980, from a prima ballerina mother and a jurist father. Winner of numerous awards, including ECHO Classic, Golden Camera, Frankfurter Musikpreis and Guinness World Record (fastest violinist in the world), David Garrett is not only an exceptional artist, but an icon of the controversial, young, and lively contemporary music, which knows no limits.
David Garrett a La Scala is a fougère, citrusy and spicy fragrance.
Yuja Wang is a classical pianist, born in Beijing in 1987, and now living in New York. She started studying piano at a very young age, attending the Central Conservatory of Music in Beijing and, later on, the Curtis Institute of Music in Philadelphia. At the age of 21, she is already an internationally recognized pianist for her concerts and performances all over the world. Wang has always attracted large attention not only thanks to her undisputed artistic talent, but also for her flamboyant outfits and her distinctive and glamorous scenic presence.
Yuja Wang a La Scala is a floral and musky fragrance.

To each rhythm its own fragrance
This concrete olfactory experience, bringing to the creation of two new fragrances, was not just a loving momentum by those fascinated by the music universe of the Milanese theatre. The time limit within which the Masterclass took place, it was also an opportunity to explore a fascinating and surprising frontier, to experience an engaging artistic and work adventure.
The senses of smell and hearing use the same language, and at each rhythm corresponds a fragrance: to experiment, to wear, to dream.
GENERAL DISCLAIMER
Although the information contained in this document is presented in good faith and believed to be correct, Moellhausen makes no representations or warranties as to the completeness or accuracy of the information. This document is provided on an "as is" basis. No representations or warranties, either express or implied, of fitness for a particular purpose are made herein with respect to information or products to which information refers. Moellhausen shall not be liable for any irresponsible, improper or illegal use, direct or indirect, of the information or the products represented herein and it shall not be liable for any damage arising from any use in connection therewith.
©Copyright 2019, by Moellhausen S.p.A – All Rights Reserved. Any review, retransmission, spreading or other unauthorized use of, or taking of any action in reliance upon, this information is prohibited.